BAMFORD LIFE
THE POWER OF CRYSTALS
19 October 2022
For as long as we've existed, humans have relied upon the mysterious properties of crystals. The Ancient Egyptians wore stones such as turquoise and lapis lazuli decoratively, while the Ancient Greeks used hematite and quartz to protect – both against evil spirits and in battle. During the Renaissance, alchemists combined crystals with herbal potions, to help heal and fight disease. Centuries later, and the magic of these precious stones endures. But what relevance do they have to the modern-day – and how can we incorporate them into our everyday life?
'Different stones attract - and work - for the individual in their own way,' explains Bamford's Crystal and Spiritual Healer, Emma Knowles - 'So how we use them, and how we respond to them, is entirely unique'. So too, are their benefits: 'Crystals act as filters to our energy', says Emma – 'So they can be used not only to draw out the things which no longer serve us, but also to draw forth what we desire – be it confidence, love or energy'.
Emma begins each session by asking clients to pick a handful of crystals from a selection. 'Instinctively, they always pick the pieces that they need in that moment - perhaps to instil calm, or to renew vitality. It's amazing how effective this can be at restoring a feeling of empowerment'. Explaining the properties of the stones is also tantamount: 'It's important to break down what different crystals do,' says Emma. 'Once the client understands how each crystal works, they are able to develop a deeper connection – both with the crystal, and with themselves'.
EMMA KNOWLES' ADVICE ON CHOOSING A CRYSTAL THAT'S RIGHT FOR YOU
'Crystal filters need a job - a task. When placed with an intention of 'I ask that this crystal lift and hold a happy mood and keep us safe, calm, happy and energetically healthy' - they can do epic things - as each crystal placed under this intention will start to work like a wifi hub, transmitting signals to each other and across the whole house at that intention, that frequency.
So I would always ask yourself, then pick your crystals: 'what do I need to keep my energies calm'? And allow for high crystal calls back... you can do this online or in a store, it works over the internet too!
I have been using them most of my life, so I pick what intuitively am drawn to that day. I set my intention, 'what do I need for today' and then I reset my eyes, my mind and let myself be led to what's needed...
I would also seek to source some grounding stones, crystals that are darker in colour, such as Tigers eye, to keep us grounded to the Earth, allow us to give our worries over to the ground rather than allow them to dance in and around our body and mental being. Amethsyt is a treasure for keeping an open mind and also allowing for calming sleep.'
Sanskrit teachings suggest that the body is made up of seven chakras, or energetic points. These run along the spinal column, from the sacrum to the top of the head, with each chakra relating to a specific organ within the body. The chakra system is the cornerstone of all life energy, also known as 'Qi' or 'prana'.
Certain crystals are also aligned to particular chakras within the body or areas in your life, and thus they are used to work on channeling specific energy or needs. In this way, crystals connect us not only to our physical body but also to our deeper sense of self.
Our Chakra Heart Crystals have been carefully chosen for their unique energetic properties. Designed to be held close, they help to bring balance and harmony, wherever your journey takes you.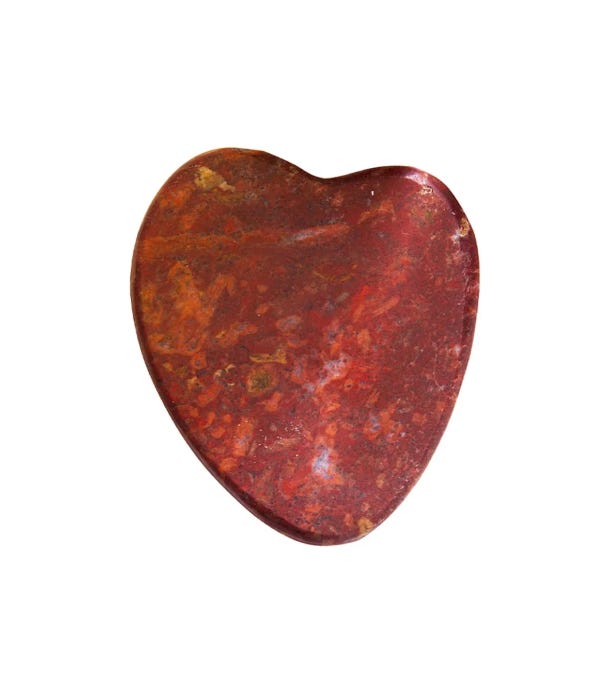 BASE CHAKRA
RESTORE YOUR ENERGY - RED JASPER
Red Jasper is a very grounding crystal as it is believed to hold stable energy. Referred to as the stone of endurance, it stimulates physical strength, stamina, focus and determination. It also helps to heighten feelings of safety and security, bringing relief from fear and anxiety.
Hold a piece of Red Jasper near when you are embarking on a new job or relationship.
SACRAL CHAKRA
CARRY GOOD FORTUNE - ORANGE ADVENTURINE
Orange adventurine is considered a stone of positivity and prosperity. It increases motivation, broadens your perspective and attracts good fortune.
It will also stabilise your state of mind, calming anger and irritation and returning you to tranquility, as well as stimulating emotional recovery.
SOLAR PLEXUS CHAKRA
RENEW YOUR CONFIDENCE - TIGER'S EYE
Tiger's Eye is a stone of courage and confidence. It helps you to shift your perspective so that you can see clearly, stay focused and move through your day calmly. It also has protective properties, traditionally carried to ward off cursed ill wishes.
Have the stone with you at important meetings or in situations when you feel nervous or afraid so that you can steady your nerves and feel strong and confident.
'Many of us really lack confidence', says Emma, 'So Tiger's Eye really works to bolster this. Carry a piece in your handbag: it also helps to focus the mind and bring a sense of clarity, heightening our feelings of control and self-assurance.'
HEART CHAKRA
STRENGTHEN YOUR HEART - ROSE QUARTZ
Rose quartz is a beautiful, pale pink stone and symbol of unconditional love - to ourselves, to others, and to the earth. It can invite love, heal heartbreak and help us to attract a soulmate; equally it reminds us that the most important love begins with loving ourselves.
Rose quartz is also associated with balance, calmness and serenity. Keep rose quartz close to enhance deep emotional healing and to release tension in the body.
'We all need a little softness on the day-to-day, and pale pink Rose Quartz is just the thing.' says Emma. 'It is excellent for general love and luck – I always say that it brings some "every day magic" to our lives, and lightens the load. Keep a piece in your pocket for a little lift, when you need it most'.
THROAT CHAKRA
IMPROVE YOUR SLEEP - AMETHYST
Amethyst is a crystal of spiritual growth and protection. It brings clarity of mind and helps attune us with our feelings and intuition and balance our emotions.
Amethysts crystals repel negative energy and attract positive energy, making them a wonderful protective stone for the home. They can also help bring you into a peaceful state and are useful if you have nightmares, insomnia or touble sleeping.
'Not only does Amethyst work on the crown chakras, promoting a deeper sleep and relaxing your mind - it also brings greater focus,' says Emma. 'So you can end the day, and start the day, well. I keep it under my pillow, but you could also place the crystal at head-level on a side table, or at the base of the bed.'
THIRD EYE CHAKRA
ENHANCE YOUR INTELLECT - LAPIS LAZULI
Lapis lazuli is revered for its ability to activate the higher mind and enhance intellect. It opens the third eye - the site of inner vision and intuition - and stimulates our desire for knowledge, truth and understanding, as well as aiding learning and memory.
Lais also encourages us to take control of our lives and to foster self-awareness. Carry lapis lazuli to enhance communication, or bring harmony to a relationship.
CROWN CHAKRA
CLEAR THE MIND - CLEAR QUARTZ
Clear quartz is a powerful healing stone and said to relieve pain if placed on an area of discomfort. This quartz is also thought to be useful at work, as it clears the mind and aids concentration and focus.
Wearing, carrying or meditating with a clear quartz crystal opens the mind and heart and because of its balancing and cleansing properties is good to hold or have around whenever you feel uncertain or would like to focus and see your way more clearly.
YOU MAY ALSO BE INTERESTED IN
ENRICH
THE SPRING WET SPA
Inspired by the sun, powered by botanicals
INDULGE
EPHEMERAL SCENTS OF SUMMER
Bathe your home in the aroma in your favourite flower with garden diffuser
ESCAPE
THE RITZ-CARLTRON MALDIVES, FARI ISLAND
Wellness in rythm with the ocean
For romantic ambiance
If you're looking for a home fragrance solution that is less overpowering and wish to create more of a romantic or welcoming ambiance, candles may be the better option - especially when considering the added glow of a softly burning candle. If you like the smokey scent of incense but prefer using candles, our